---
Season 2013…
Final UCI ranking

Place

Team

Europe Tour
278

Slovak team Dukla Trenčín Trek
---
47. place in individual time trial losing 6´15´´ to winner Tony Martin.

Pre-Worlds Interview in Slovak L-Radio

At the start of time trial on Wednesday

UCI World Championships, Firenze, ITA 25. — 29.9.2013

LIVE Coverage Road Race

Finish: Faria da Costa a new world champion, Rodriguez second, Valverde third. Sagan sixth, Jurčo did not finish the race. Hard race, many crashes caused by rain and new asphalt road, just 61 of 208 riders finished today.

Last 10 km: Rodriguez in lead. Three riders few seconds behind.

200 km: Jurčo withdrawed from the race from 93. position with Hushovd.

190 km: Still "On Air". According to UCI live results Jurčo is still riding around 90. place. Slovak leader Sagan is still in the front in a very good shape.

Left: Elite Team of Slovakia (from left): Jurčo, Velits M., Velits P., Sagan J., Sagan P., Tybor. Photo by Cycling-Info

Right: National team of Slovakia. From up left: Saul Nencini, Josef Dvořák, Ladislav Velits, Peter Privara, Matej Jurčo, Martin Velits, Peter Velits, Juraj Sagan, Peter Sagan, Patrik Tybor, Michael Kolář, Martin Riška, Milan Novosad, Vladimír Hnáth, Štefan Fejko, Tomáš Liška, Ján Valach
Fom down left: Berto Nazzareno, Maroš Hlad, Juraj Bellan, Erik Baška, Juraj Lajcha, Tereza Medveďová, Ľuboš Malovec, Martin Dubeň, Tomáš Harag, Rastislav Zoller. Photo by Slovak Cycling Federation

---

Jurčo took part in World Championships both in time trial and road race.

Thank you for your support!

Road Race on Sunday. Photo Roman Kanich.
---
UCI 2.2 Tour of South Bohemia,

CZE

5. — 9.9.2013
1. stage: Reinhardt outsprinted a small leading group, Slovaks in peloton
NOVÁ BYSTŘICE. In Czech republic started the 4-stage UCI 2.2 race today. Young team of Dukla Trenčín Trek takes part in the last stage race before world championships in Florence in 2 weeks.
| | | | | |
| --- | --- | --- | --- | --- |
| Třeboň – Nová Bystřice | Týň n. Vltavou – Milevsko | Trhové Sviny – Tábor | Písek – Jindřichův Hradec | General |
| 51. | 11. | 23. | 16. | 22. |
---
23. World Military Cycling Championships

, BEL

4.8.2013
Jurčo and his colleague Kováč in top 5
LEOPOLDSBURG/BERINGEN. Dukla Trenčín Trek as a military team took part in 60-men road race in Belgium. 4. and 5. place of Kováč and Jurčo respectively made all of soldiers and cycling fans in Slovakia happy.
---
UCI 2.2 Baltic Chain Tour

,

LAT 18. — 25.8.2013
Really fast races with one stage victory for Slovakia
| | | | | | |
| --- | --- | --- | --- | --- | --- |
| 1. Lahti | 2. Tallin – Viljandi | 3. Viljandi – Otepää | 4.Smiltene – Sigulda | 5. Panevežys – Utena | 6. Utena – Vilnius |
| 47. | 58. | 21. | 19. | 31. | 26. |
| | | Bunch Sprint | | | Bunch Sprint |
VILNIUS. In beautiful tour in Baltic countries Finland, Estonia, Lithuania and Latvia Slovak guys of Dukla Trenčín Trek succed especially in the 4. stage by Patrik Tybor´s victory. Nevertheless Slovaks lost their top 5 general classification in 5. stage influenced by strong crosswind finishing with 11 minutes loss of time. Finally, Jurčo finished at 41. place in general classification.
Source: www.balticchaintour.com
---
UCI 1.2 Puchar Uzdrowisk Karpackich

,

POL 11.8.2013
Top 20 for the team by Tybor, Jurčo 23. in a hilly race
As well as yesterday the tactics of Polish teams dominated the race. But unlike yesterday the Polish rider Honkish (CCC Polsat) found a way to win. The peloton split into few groups throught the hilly route in the south of Poland.
UCI 1.2 Memorial Henryka Lasaka, POL 10.8.2013
55. place for Jurčo with no teamguys ahead
SUCHA BESKIDKA. Early breakaway with Jurčo did not succeed as the rider of CCC Polsat punctured. So, the peloton worked hard with CCC zuys in the front to catch 8 riders left. Furthermore next breakaways got on but without any Dukla representation. Youngster French Senechal (Etixx iHned) won the race.
---
UCI 1.2 Grand Prix Kranj

,

SLO 27.7.2013
2nd place of Jurčo in close uphill finish
KRANJ. Austrian Pöstlberger (Gourmetfein Simplon) outsprinted all breakaway guys in Slovenia. Jurčo got to podium after a long time. Photo by Kolesarski Klub Sava. Report (Slovenian)
---
UCI 1.2 Central European Tour

– GP Budapest

,

HUN 21.07.2013
10. place in a bunch sprint finish
---
Czech Cup Grand Prix of the Vysočina Region

,

CZE 06.07.2013
7. place of Matej
---
UCI 2.2 National Championships

,

SVK 21.6.2013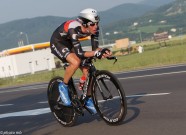 4th place in the individual time trial, absence in road race
---
UCI 2.2 Tour of Malopolska

,

POL 13. — 15.6.2013
NIEDZICA. The favourite, hilly race in the beautiful scenery of Malopolska finished today as well as yesterday with a demonstrational show of the home Polish riders. Jurčo repeated his nice ride in the top 20 and confirmed his solid position in the general classification.
| | | | |
| --- | --- | --- | --- |
| 1. stage | 2. stage | 3. stage | General |
| 61. place | 14. place | 11. place | 11. place |
---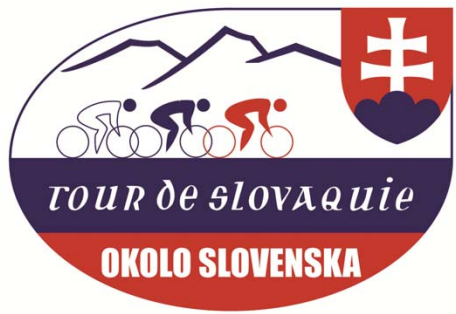 UCI 2.2 Tour de Slovaquie, SVK 4. — 8.6.2013
Slovak cycling event of the year is a witchy one for Jurčo
HLOHOVEC. Rainy weather folllowed the riders. As well as shame followed Jurčo. After puncture in final kilometre in the 2. stage he fell down also in final moments in 3. stage. Nevertheless he and all guys did a good job for a team leader Kováč (3. place overall). The stage race finished earlier because of flood in Bratislava region. A very young Czech Vakoč (Etixx – iHned) gains an overall win thanks to his action in the first and the second stage.
KOŠICE. 2 km prologue was a very fast (56 km/h) introduction to Slovak Cycling Holiday. Danish Moller (Blue Water Cycling) won and gained the yellow jersey for the stage in afternoon. Slovak Kováč (Dukla Trenčín Trek) started with the 3rd place, Jurčo 38th.
| | | | | | |
| --- | --- | --- | --- | --- | --- |
| Prologue | 1.stage | 2. stage | 3. stage | 4.stage | General |
| 38. | 20. | 26. | 45. | 16. | 14. |
| | | | | | |
Photos: OkoloSlovenska.com, Vladimír Škuta
Slovak Cup Košice — Tatry — Košice, SVK 24. — 26.5.2013
A team building event for team Dukla Trenčín Trek
KOŠICE. A traditional stage race was a very pretty watching for the fans of Dukla. Jurčo won the 1st stage finishing in High Tatras Mountains. His teammates Broniš and Tybor repeated victories on next days and Kováč won the general classification. So it was a little of action guys are preparing for Tour of Slovakia.
Looks like nobody else took part, right? Source: Dukla Trenčín Trek
---
UCI 2.2 5 Rings of Moscow, RUS 5. — 9.5.2013
4. stage: Shattered sprint but 7th place of Kováč in the final classification
MOSCOW. A prestigious stage in the centre of Moscow had a sprint finish again. Spanish Sobrino Martinez (SP Tableware) outsprinted all the bunch. Well-positioned Jurčo was sabotaged by the Ukrainian rider in last hundreds metres and subsequently lost a chance to win. Team of Dukla gained a 7th overall place of Kováč with Jurčo at 21.
3. stage: 6th place of Kováč, Jurčo 19th
MOSCOW. Stage at Krylatsky route was probably the hardest in Moscow. Many groups, big loses in spite of racing in the city park. Hero of the day Klimov (Rusvelo) outsprinted a 6 companions including Kováč (Dukla Trenčín Trek). Jurčo lost 3:20. Slovak guys will fight for 7th place in overall classification of Kováč in a Moscow "sightseeing" route.
Photo: Russian Cycling Federation, archive
UCI 1.2 Grand Prix of Moscow, RUS 3.5.2013
A bunch sprint today with no riders ahead
MOSCOW. A home rider Kovalev (Rusvelo) outsprinted 70-rider bunch in today's 173 km Grand Prix. Broniš of Dukla Trenčín Trek finished 18th and Jurčo 38th. It seems to be the easiest race to finish in Moscow today. How could it be for Dukla if a today's bunch sprint winner at Carpathian Couriers Race U-23 Kolář take part?
UCI 1.2 Memorial of Oleg Dyashenko, RUS 2.5.2013
Improving the results with 4th place of Kováč
MOSCOW. The second 163 km race of the Russian cycling holiday took place in "Krylatsky park" — an epic route of the Moscow cycling. It was won by a strong Russian Rybakov (Rusvelo) far ahead of pursuers. Kováč of Dukla Trenčín Trek finished 4th in the fractionalized peloton. Jurčo finished 40th as just about 45 riders finished the race as well as yesterday.
UCI 1.2 Mayor Cup, RUS 1.5.2013
Starting the Russian mission with 5th place
MOSCOW. Introductory 173 km race in Russia taking place in a beautiful park was won by Ukrainian Buts (Kolss Cycling Team). Matej Jurčo finished in the bunch sprint of 11-men group at 5th position. Just about 50 out of 140 riders (24 teams) finished the race.
Photo: Russian Cycling Federation
---
Slovak Cup 18. Criterium Dudince, SVK 27.4.2013
First win for Jurčo

—

in home country
DUDINCE. Team of Dukla Trenčín Trek did a fine job. Jurčo rode his solo and won ahead of Čanecký (CK Banská Bystrica) and Mahďar (Dukla Trenčín Trek). The team of Dukla dominated in the race as it is the best one of all that few teams in Slovakia.
Photo: Vladimír Koši, Michaela Jurčová
---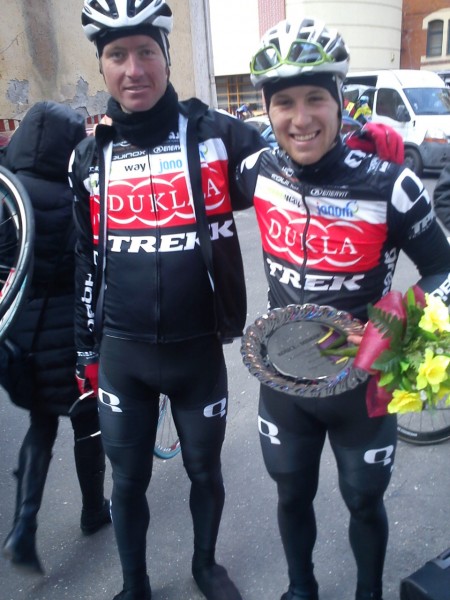 UCI 1.2 Košice — Miškolc, HUN/SVK 23.03.2013
Win for the teammate Kolář, Jurčo fourth.
UCI 2.2 Tou du Maroc, MAR 29.3. — 07.04.2013
5. place of Jurčo, 2. place of the teammate Kováč in general classification with many podiums in 10 stages in Morocco.
Report at Slovak site: http://www.jurcosport.com/news/okolo-maroka-2013/